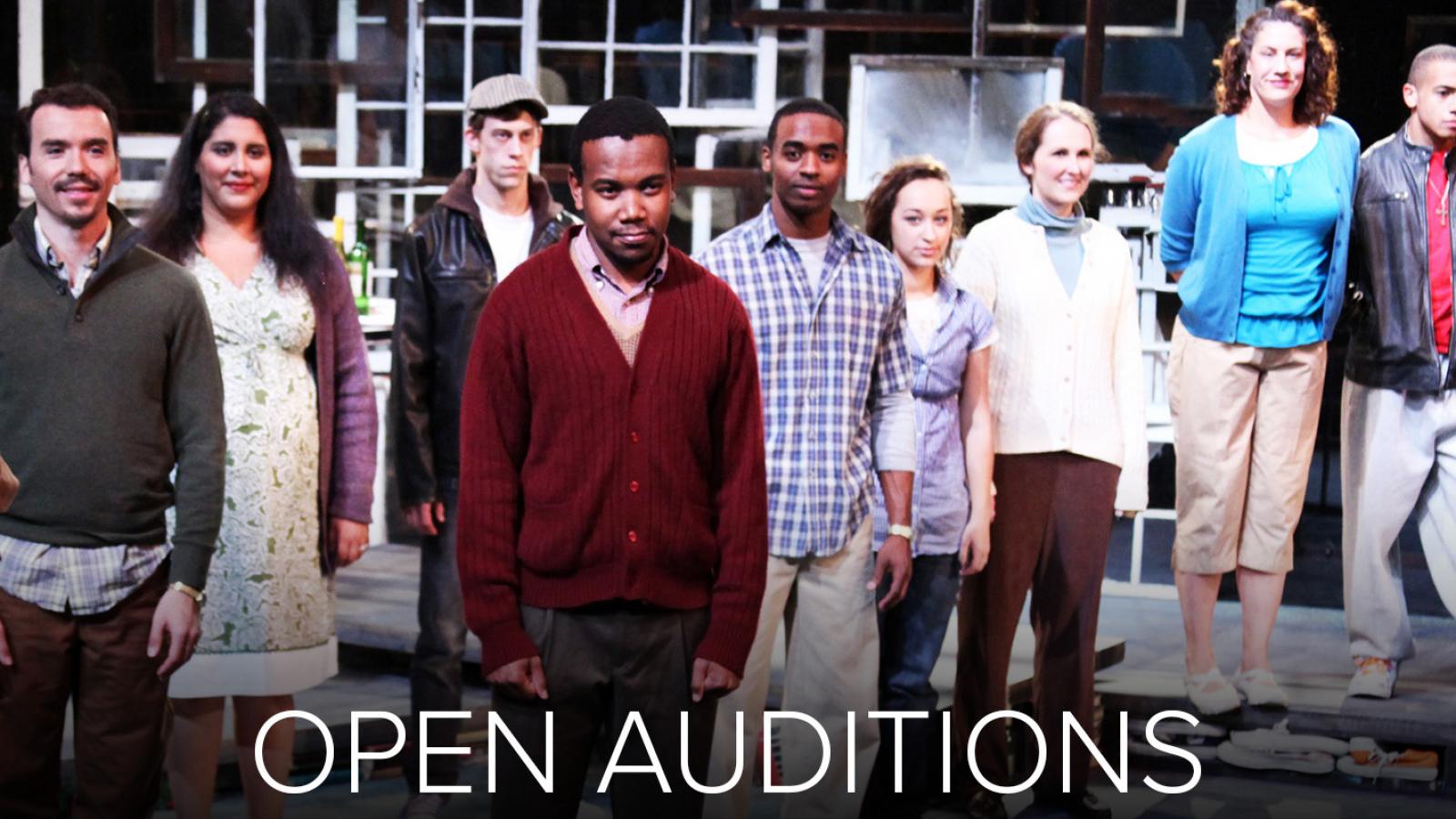 Body
The Ohio State Department of Theatre, Film, and Media Arts
Spring 2022 Auditions
Any Ohio State student can audition for our department's productions and we welcome students from all programs, backgrounds and experience levels. This year, students can audition in person or online.
Productions (more information available below)
Sweat by Lynn Nottage, directed by Tom Dugdale
Violet: the musical by Jeanine Tesori and Brian Crawley, directed by Mandy Fox
Student-directed Lab Series productions
Student-directed Film productions
How to Audition
Prepare 1 monologue of no more than 3 minutes in length.
If auditioning for the musical, please also prepare 16 bars to sing of a song of your choice.

Video-recorded auditions can sing along with a track or a cappella.
In-person auditions may have an accompanist, but also be prepared to sing a cappella.

Students can audition in person or online.
In-Person Auditions
Auditions will take place on Thursday, September 30 and Friday, October 1 in the main lobby of the Drake Performance and Event Center at 6:00pm.
To begin, choose which date you'd like to attend and register online anytime before the day of your audition. We will also accept walk-ins each night as space allows.
Starting at 5:30pm on the day you chose, you will be able to sign up for a specific time that evening for your audition. Starting promptly at 6:00pm, we will begin seeing auditioners in the order they've signed up. PLEASE NOTE: the cut-off time for signing up for an in-person audition is 7:30pm each night.
Online Auditions
We also welcome video submissions from any student by noon on Wednesday, September 29.
To begin, register online anytime before the deadline.
Record a video submission of 3 minutes or less that includes introducing your name, the piece you will be performing, and title of song if applicable.
Upload your video to a video sharing site (Vimeo, Youtube, etc.) and obtain a link you can share for viewing. (Please do not use a file-sharing platform like Google Drive, iCloud, etc.)
Send your video's link to our Production Manager Sherée Greco along with a photo of yourself before the deadline. You can also include an acting resume, if you have one.
Callback Notices
Callback notices will be announced via email on October 1 in the evening after auditions have ended. They will be emailed directly to all who auditioned. It is the student's responsibility to check for the callback notices.
Callbacks will occur in-person at the Drake Performance and Event Center on Saturday, October 2 for Sweat and Sunday, October 3, for Violet. Room locations and times are TBA. It is possible to be called back for both shows.
Casting and Enrollment
The final cast list will be emailed on Monday, October 4 to everyone who was called back.
Each student cast in Sweat or in Violet will be enrolled in THEATRE 4000.08 for 3 credit hours. If you need to decline your role, email the director as soon as possible.
If student directors for the Lab Series or film projects are interested in casting you, they will reach out to you directly, perhaps in the spring semester. Work on these productions does not earn course credit.
---
The Ohio State University Department of Theatre, Film, and Media Arts promotes diverse casting opportunities in its productions for artists of any race, ethnicity, heritage, color, culture, country of origin, age, gender, gender identity, sexual orientation, physical or cognitive ability, and body shape. You do not need to be a theatre major or minor to participate. All Ohio State students are invited and welcome.
---
If you don't find your answers on this page, you can reach out to Production Manager Sherée Greco.
Advanced
Accordion Header

FAQ for In-Person Auditions or Video Submission
Text
You can audition online by submitting a video audition instead.
Text
Due to COVID-19 safety concerns, we no longer hold hard-copies of scripts in the main office to sign out. Many scripts can be found at the local library or online.
An e-copy of Sweat is accessible through University Libraries.
Text
Please set up your device (smartphone, tablet, camera) with a clear and centered view of your upper body, hands, and face as you perform. (Make sure that you don't move out of the frame!) You may orient your device vertically or horizontally.
No tripod? Try using a music stand, a chair with a pile of books, a stack of storage bins, etc. Try to have the device at eye level with you, or as close as possible. Sometimes, the sound quality is better if the device is on something soft, like a pillow or blanket. Or, you could have another person hold the device for you.
Make sure you can be heard. Consider recording a test that you can play back to check your volume levels.
Text
We encourage you to dress in a professional but comfortable manner, even for video auditions.
Accordion Header

Production Information
Text
Sweat
By Lynn Nottage
Directed by Tom Dugdale
Roy Bowen Theatre
To be directed, rehearsed, and performed in person on campus.
Current Schedule
Rehearsals begin as early as January 10, 2022. Rehearsals take place M-F, 6:30-9:30pm and 11:30-4:30pm on weekend days.
Tech/Dress Rehearsals: Monday, February 21 through Tuesday, March 1, 6:00-10:30pm during the week and 11:30-4:30pm on weekend days.
Performance Dates: March 2, 3, 4, 5 at 7:30pm, March 6 at 3:00pm, March 8, 9, 10, 11 at 7:30pm.
Synopsis
Sweat by the celebrated playwright, Lynn Nottage, is one of the most powerful new American plays of the last several years. Set in Reading, Pennsylvania during the early 2000s, the play explores how economic uncertainty can fracture friendships, families, and communities. Though set in the past, Sweat resonates in the present. As critic Jeremy Gerard describes it, "No play in recent memory has shed more light on he crises and tribulations of America's great retrenched working middle class."  Sweat features a diverse cast of deeply human, emotionally complex characters and thrilling scene work. This is high-stakes, beautifully detailed realism at its very vest. Sweat won the Pulitzer Prize for Drama in 2017.
Intimacy Notice
There are a variety of intimate actions in this play that will be carefully choreographed. The range of physical intimacy will be discussed at the callback.
Character Breakdown
Evan, male, African-American, 40s; a no-nonsense parole officer
Jason, male white American, 20s; touch on the outside, fragile on the inside, has a temper
Chris, male, African-American, 20s; a bit of a dreamer, with plans to leave the factory and go to college, loves his parents despite the challenges they present
Stan, male, white American, 50s; a friendly bartender who tries to keep the peace
Oscar, male, Columbian-American, 20s; quietly diligent, but not afraid to stand his ground
Tracey, female, white American, 40s; brash, doesn't hold back; Jason's mother; develops an addition to pain medicine
Cynthia, female, African-American, 40s; more measured and diplomatic than Tracey; Chris's mother
Jessie, female, Italian-American, 40s; a heavy drinker whose soul seems heavy, though she can suddenly spring to life; she dreamed of travelling the world when she was young, but it never happened
Brucie, male, African-American, 40s; one a great union organizer, but now wrestling with addition, which has strained his marriage with Cynthia and his relationship with Chris
Text
Violet: the musical
Book by Brian Crawley
Music by Jeanine Tesori
Directed by Mandy Fox
Music Direction by Theo Jackson
Thurber Theatre
To be directed, rehearsed, and performed in person on campus.
Current Schedule
Rehearsals begin as early as January 10, 2022. Rehearsals take place M-F, 6:30-9:30pm and 11:30-4:30pm on weekend days.
Tech/Dress Rehearsals: Tuesday, March 22 through Wednesday, March 30, 6:00-10:30pm during the week and 11:30-4:30pm on weekend days.
Performance Dates: March 31, April 1, 2, 5, 6, 7, 8, 9 at 7:30pm.
Synopsis
Violet is a musical with music by Jeanine Tesori and libretto by Brian Crawley based on the short story "The Ugliest Pilgrim" by Doris Betts. It tells the story of a young disfigured woman who embarks on a journey by bus from her farm in Spruce Pine, North Carolina, all the way to Tulsa, Oklahoma in order to be healed. In its off-Broadway run, it won the Drama Critics' Circle Award and Lucille Lortel Award as Best Musical. Violet received four Tony Award nominations when it opened on Broadway in 2014.
Character Breakdown
Violet: 25. Mezzo, belt. Identifies as a white cis female. (Violet Karl from Spruce Pine, NC) She is stubborn and prickly, filled with equal parts hope and obsession that she may be healed and be made beautiful. Strongly influenced by movies, she idealizes glamourous movie stars. She's direct with people who stare at her scar (which is prominently located on her face, although not literally visible to the theatre audience). After her father died, she sought help from doctors, snake handlers and the Catholic church. Now she's traveling across the south on a bus to be healed by a preacher she saw on TV. 
Young Violet: 13. Mezzo Soprano. Identifies as a white cis female. Not quite as guarded or prickly as her older self, but still tough and stubborn. She has a keen curiosity and the rough edges of being brought up solely by her father.  
Flick: Late 20's. Baritone. Identifies as African-American cis male. Real name:  Grady Fliggins. An African-American soldier who looks for the positive in life–a dreamer and a go-getter. "You do what you gotta' do, but in the end you do it alone. You choose your road, then you walk it, one step at a time." He doesn't enjoy the army, but he enjoys the respect it garners him. There is something gentle and good about him, not to be interpreted or confused with weakness or lack of authority. He is not moved much by Violet's scar. He was in basic training with Monty. 
Monty: Mid 20's. Tenor. Identifies as white cis male. Real name: Montgomery Harrill (from Raleigh, NC). A paratrooper and corporal. Believes himself to be fearless and irresistible to most–especially women. He is a bit full of himself. As described by Violet, he's "a boy in the skin of a man." He's rough around the edges and he's fighting his own demons. Monty was in basic training with Flick, and now he trains young men to jump out of airplanes. 
Father: Late 30s–mid 40s. Baritone. Identifies as white cis male. A simple, widowed man who lovingly raises his daughter, Violet, alone, doing the best he can with the little knowledge and resources he has. Stern but friendly, smart but uneducated. He accidentally scars 13 year-old Violet's face while he is chopping wood. He can be stern with her at times in an attempt to protect and toughen her. Teaches her to hide from others so she won't be tortured by them. He took Violet to see doctors in Charlotte for her 18th birthday. He died of a heart attack when Violet was 22 and left her a little money. 
The following roles reflect the ensemble role combinations from the original production. Our production may distribute them differently.
ENSEMBLE 1- FEMALE: Old Lady, Hotel Singer, Old Lady 2. 
Old Lady: A former beauty in her heyday, now tired and frustrated with life. She's gossipy, nosy. Violet, is the unwilling recipient of her boldness. She's on her way to Nashville to see her son Harvey, who works in a cellophane plant. 
Hotel Singer: Memphis. Sings with/counterpoint to Flick.
Old Lady 2: Passenger, Tulsa to Fort Smith. She's sure that whoever is supposed to pick her up forgot. 
ENSEMBLE 2- FEMALE: Music Hall Singer, Mabel, Woman with Fan.  
Music Hall Singer: Memphis. Has an eye for Flick, but loses interest as soon as she sees him with Violet.
Mabel: Passenger Tulsa to Fort Smith. Talkative. Tired of sitting. A bit man crazy. Three straight husbands tried to teach her to drive before she figured out how to do it. She once hit a traffic cop and subsequently married him after he got out of the hospital. 
Woman with Fan: Rides from Fort Smith to Tulsa.
ENSEMBLE 3- FEMALE: Landlady, Woman Knitting, Gospel Soloist (Lula). 
Landlady: Almeta. Identifies as African-American. Flick's friend.  Runs boarding house in Memphis. Agrees to let them stay when Flick pays her $20. Tells Flick to use the back alley exit if they leave the premises. 
Woman Knitting: A quiet woman.
Gospel Soloist: Lula Buffington. A member of the volunteer choir that sings for the Preacher's telecast. Sings for God with passion and power.
ENSEMBLE 4- MALE: Bus Driver 1, Rufus, Radio Singer, Bus Driver 4.  
Bus Driver 1: Johnson, aka Mr. Wallace Weatherman. Looks forward to Sal's Barbecue and greasy food. Gets off at Nashville.  
Preacher: In Violet's fantasy. Talks in tongues. TV preacher. An impassioned, theatrical man who preaches with all the bravado he can muster. Once had a true healing touch but has lost it in his quest to become a showman. Dismissive and egotistical.
Rufus: A mechanic in Memphis. Along with the other mechanic, accosts Flick.
Radio Singer: Memphis boarding house radio singer.
Bus Driver 4: Tulsa to Fort Smith. Johnson, aka Mr. Wallace Weatherman. Wants Dan's Irish Stew, blackberry pie and beer when he gets to Fort Smith.
ENSEMBLE 5-MALE: Radio Soloist, Waiter, Leroy Evans, Mechanic, Bus Driver 3.
Leroy Evans: Has a dog named Roscoe. Not too smart. Won't look Violet in the eye because of her scar.
Waiter: Non-African-American. Racist. In Kingsport. Blunt about Violet's scar. 
Mechanic: In Memphis. Gets into fight with Flick.
Radio Soloist: Memphis. Part of the boarding house radio trio.
Bus Driver 3: Memphis to Fort Smith. Sings "Lonely Stranger."
Earl: Tulsa to Fort Smith. Flea circus owner, former midway barker. A strange character on the Greyhound bus who sneaks smokes in the bathroom and is carrying a smelly suitcase he claims holds a flea circus.
ENSEMBLE 6-MALE: Billy Dean, Creepy Guy, Radio Singer, Bus Driver 2. 
Creepy Guy: Tulsa to Fort Smith. A "Jesus freak."
Bus Driver 2: On the Nashville to Memphis leg.
Radio Singer: Memphis. Part of the boarding house radio trio.
Billy Dean: Violet's first sexual encounter–on a $5 bet. An Elum brother.
Virgil: The preacher's assistant. Knows the smoke & mirrors of the Preacher's show and must begrudgingly deal with anyone who might derail it.