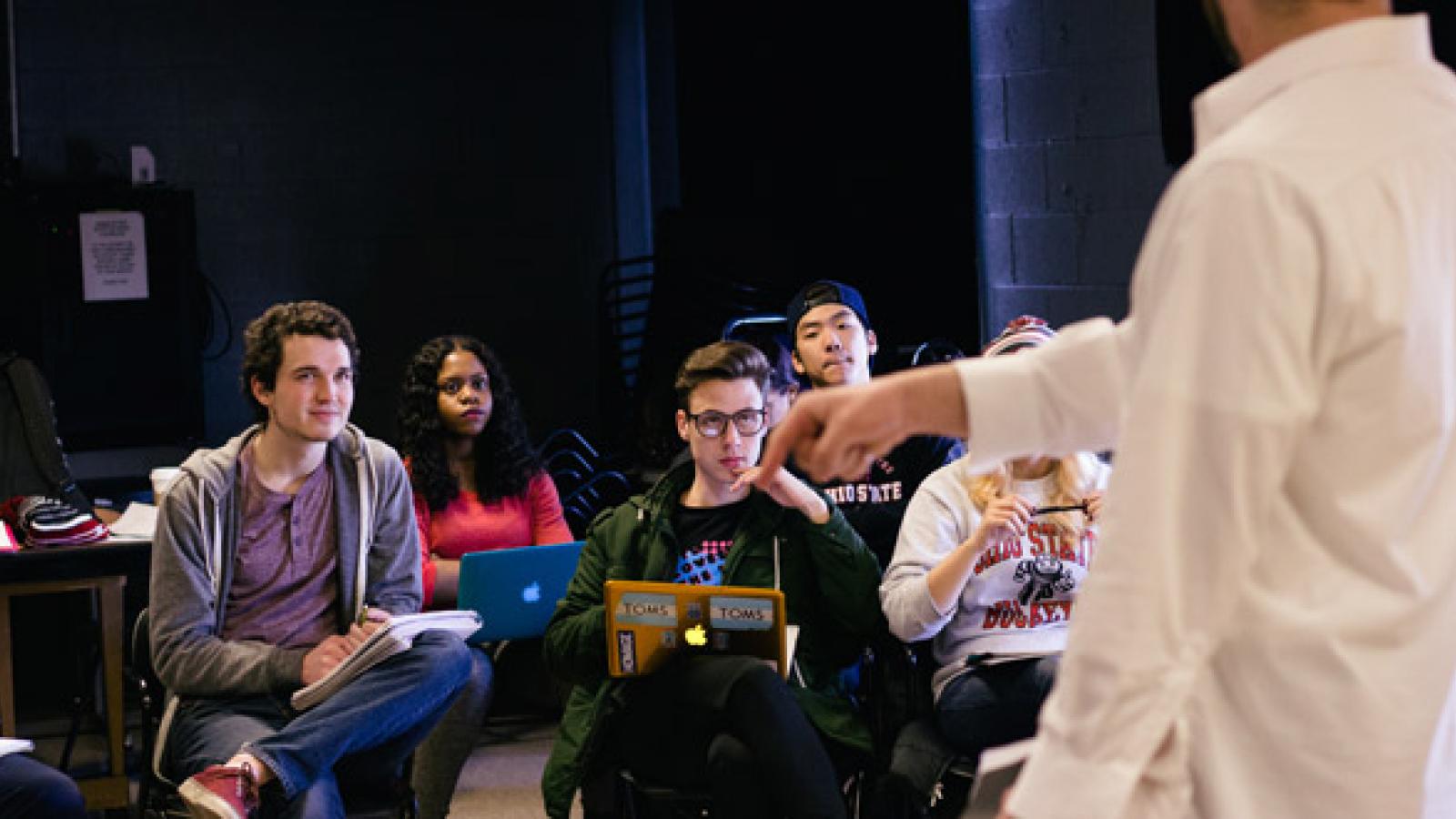 Body
How to Apply
Visit The Ohio State University admissions website to enroll. By selecting to major in theatre, you will be enrolled directly into the Bachelor of Arts degree program. We encourage you to consider participating in the Honors and Scholars Program at Ohio State. In addition, many of our students are part of Arts Scholars Program. If you wish to participate, you must indicate this on the Ohio State supplement to the Common Application. Application Deadlines for first-year students on the Columbus campus are November 1 (early action) or February 1 for autumn enrollment.
Schedule a Visit
Prospective students are encouraged to set up a campus visit. We will give you a tour of our facilities and schedule time for you to meet faculty members if they are available.
What Can I Do With A Degree in Theatre?
A degree in theatre can lead to a variety of careers. Certainly, these can be in academic or professional theatre. Many people assume that the theatre profession is limited to acting on stage or screen, but there are far more things that students with degrees in theatre learn how to do. Our students have gone on to direct, design, and write for the theatre. They are also stage managers, theatre technicians, dramaturgs, box office managers, teaching artists, marketing managers, fundraisers, and arts administrators. Some of them develop and tour their own work. They work in New York, in LA, and in regional theatres across the nation. But they also work in other fields where people with expertise in theatre are sought: theme parks, museums, digital media companies, and educational institutions.
The basic skills of theatre-making are crucial to other career paths, too. Our students learn to meet deadlines, are dexterous in interpersonal communication, know how to collaborate and work as a team, think on their feet, and possess strong life skills—they can effectively speak in public, write with clarity, swing a hammer, and hem a pair of pants.
Finally, a liberal arts degree in any field offers many advantages, only one of which is to offer career training. A more important benefit is the development of skills in critical thinking and informed compassion. A BA degree in theatre offers a rich exposure to the diversity of the human experience, and is uniquely suited for the education of thinking, feeling citizens.
Why Should I Study Theatre at Ohio State?
Our BA is flexible. We have a core of required courses, of course. But we have chosen not to offer tightly-controlled sequences focused on discrete skill development because such sequences provide too little opportunity for curricular choice on the part of the student. With our BA, you can individualize your program, deciding when to take required courses to best suit your particular interests. And, you can customize your program of study to zero in on acting, new works development, design, or technical theatre based on the ways you select from our rich array of electives. In addition, because our program is flexible, our students are able to take advantage of the breadth of courses available across Ohio State's campus and regularly undertake minors, second majors, study abroad experiences, internships, and senior honors or distinction projects.
Even better, Ohio State's location in central Ohio and its relationship to the prestigious Wexner Center for the Arts and to key area theatres places us in the midst of a dynamic theatre scene. Between our networks of professionals from the region and those who visit the Wexner Center, you will meet engaging, significant guest artists in many workshops and residencies. Recent residencies have featured figures like Marcel Marceau, Anne Bogart and the SITI Company, Kathleen Turner, Petr Metasek, Elevator Repair Service, Julie Taymor, Caridad Svich, C. Denby Swanson, and Jon Stewart.