January 31, 2023
Professor Jeanine Thompson Announces Retirement
Image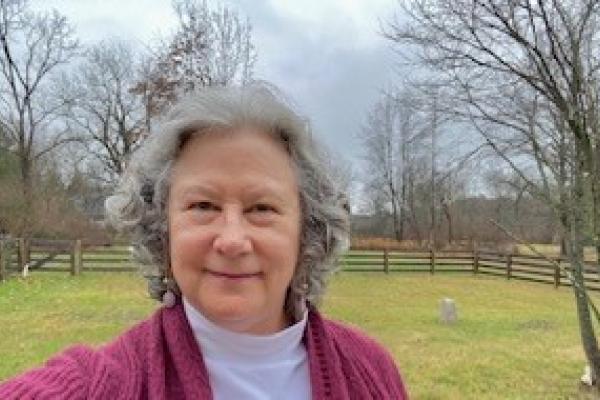 Description
Professor Jeanine Thompson has announced her plan to retire at the end of this academic year. She has served the Department of Theatre and then the Department of Theatre, Film, and Media Arts for over three decades.
Thompson was born in Utah. At the University of Utah, she majored in Modern Dance and Theatre. She also studied at the American Conservatory Theatre of San Francisco. After several years of working professionally, she completed both her BFA and MFA degrees at The Ohio State University's Department of Dance, with specializations in Performance and Choreography. From 1985 - 2007, Thompson worked closely with Marcel Marceau. Initially, she studied with him at his American Seminars in Ann Arbor after which she produced his American Seminars at the Goldston School for Mimes in Gambier, OH.
Thompson often fused mime and modern dance in her own performances. For her 1990 solo show An Evening of Impressionistic Dance at the Third Avenue Performance Space in Columbus, critic Barbara Zuck noted:
Thompson's choreography incorporates both the athleticism and fluidity of dance and the drama of mime. One ability supports the other. The dance softens the exaggerated movements of mime and gives her work flow. Thompson's mime experience sharpens the dramatic purpose. On top of all that, Thompson has the charisma, the presence, of a solo performer. Few are so blessed.
She produced three residencies with Marceau at Ohio State. Throughout those years, Marceau mentored Thompson as a master teacher of his work and directed her performances and choreography. Marceau said of her work, "Even her subtlest movements express the essence of thought and emotion."
During Marceau's 2001 residency, Thompson worked with people from Industrial Light & Magic to direct Marceau in a motion capture session, where his signature movements were captured and archived. Thompson worked with Marceau and curator Nena Couch to establish the Marcel Marceau American Collection Archive at the Lawrence and Lee Theatre Research Institute (TRI) in 2011.
In 2014, Thompson collaborated with Vita Berezina Blackburn, animation specialist at Ohio State's Advanced Computing Center for the Arts and Design (ACCAD) on There Is No Silence, a two-hour interdisciplinary multimedia play about the life and work of Marceau. It was collaboratively created through a year and half-long devising process by faculty, MFA actors, and a production design team from the Ohio State Department of Theatre and ACCAD. The performance included richly-integrated technology with live motion capture, projections of animation, and a stunning duet with Marceau's motion capture data.
Thompson's teaching and artistry were also deeply influenced by director, Anne Bogart, and SITI Company. She began studying with SITI in 1996 and produced nine residencies with them at Ohio State. The company mentored Thompson in teaching Viewpoints Training and Suzuki Method of Actor Training. This year, Thompson capped a years-long collaboration with Curator Beth Kattelman and Vice Provost and Dean of University Libraries Damon Jaggers to secure SITI Company's archive for the TRI. She was instrumental in making Ohio State a research destination for scholars studying Bogart, SITI, Viewpoints, and Suzuki Method of Actor Training.
In addition to building relationships with such prominent artists as Marceau and Bogart, Thompson has collaborated with colleagues and students to create, direct, and choreograph new works, including Uncommon Clay, an ensemble work about the French sculptress Camille Claudel; Breaking The Current: Ms. Toad's Wild Ride Through the Twists & Turns of the Psychedelic Journey Called Life; The Fire Still Burns, a devised ensemble work about the Triangle Shirtwaist Factory fire; The Camouflage Project, a devised ensemble work about WWII Special Operations Executive females agents; Scrap Heap, a solo created and performed by Kevin McClatchy about a veteran suffering from PTSD; Stop Sign Language, a solo created and performed by Eleni Papaleonardos about living with dyslexia; and Ordinal 5, a dance based on and representing the math equation Ordinal 5. Ordinal 5 was part of the International Topology Conference Embodying Transformation: A Dance and Sound Event held at the Tate Modern in London, England.
Thompson has directed numerous published plays, including: Big Love, Trojan Women 2.0, Irma Vep, O' Pioneers!, Another Part of the House, and In the Next Room: or, The Vibrator Play. She also specialized in directing and choreographing intimate scenes in plays, becoming the department's first Theatrical Intimacy Director and Choreographer. She pioneered many methods we use today for preparing actors to perform and for directors to choreograph the intimate action in the performing arts.
The department will hold a reception celebrating Thompson's career on April 20th.
---