May 17, 2016
In Memoriam: Jaroslav Malina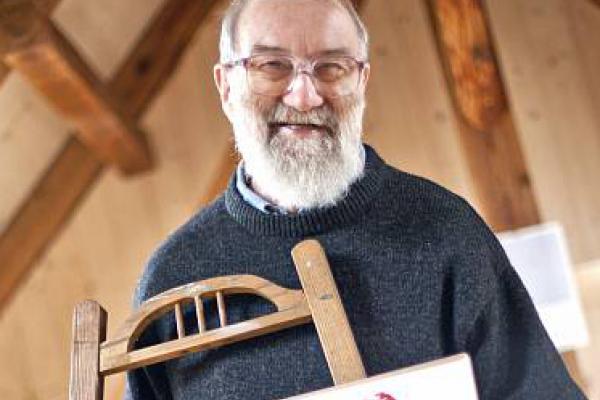 Jaroslav Malina, painter/designer/teacher/bon vivant, died peacefully on 14 May 2016 near his home in the Czech Republic. Jaroslav was my friend and mentor for the last 29 years and his affiliation with Ohio State University Theatre was deep and fruitful. Malina, described as one of the 12 most influential scenographers in the world by Tony Davis in 2000, designed 3 productions at Ohio State Lima, including The Cherry Orchard in 2004. He designed an award winning setting for Orpheus Descending at Ohio State Columbus in 2001. One of the last of the generation of Czech designer/painters, Malina's paintings have been acquired by several major galleries in the Czech Republic and recently by the Columbus Museum of Art. A number of Malina's most significant stage designs are now a part of the Jerome Lawrence and Robert E. Lee Theatre Research Institute. But perhaps Jaroslav Malina's deepest impact at Ohio State was his willingness to talk directly and openly with our students. Whether they were interacting with him during a production or chatting over "coffee" at his country home during a Study Tour, Jaroslav was a patient, warm, and enthusiastic conversationalist.  Those who met him, will not soon forget him.
Send condolences to his daughter: malinamarie@yahoo.com
Joseph Brandesky
The Martha W. Farmer Endowed Professor of Theatre

Jaroslav Malina in many ways has been at the heart of the Czech scenography collection at the Lawrence and Lee Theatre Research Institute through his many masterful scene and costume designs, his enthusiasm and willingness to engage with students, faculty, and researchers about his work, and his broad knowledge, both historical and contemporary, of Czech scenography and art. The Institute is honored to hold more than 75 drawings from 25 theatre and opera productions as well many of the wonderful production posters that Malina designed himself, covering almost 50 years of his extraordinary work.
Nena Couch
Professor of Theatre and Head, Thompson Library Special Collections

I had the great fortune to work with Jaroslav Malina as a student, a collaborator and a colleague. My first assignment in graduate school was to assist him in his scene design for Orpheus Descending. I had the joy of lighting his scenery for Cherry Orchard. And of course, I looked forward to seeing him in Prague at each Quadrennial and was delighted when my students would get the opportunity to meet him as well. They quickly learned, as we all did, that Jaroslav was more than a consummate artist and visionary designer. He was a warm and generous man who cared as deeply about his students and collaborators as he did about the theatre. He will be sorely missed.
Brad Steinmetz
Assistant Professor of Theatre
Encore Yaroslav Malina Article.pdf
Yaroslav Malina Bird Sketch.pdf
---