Image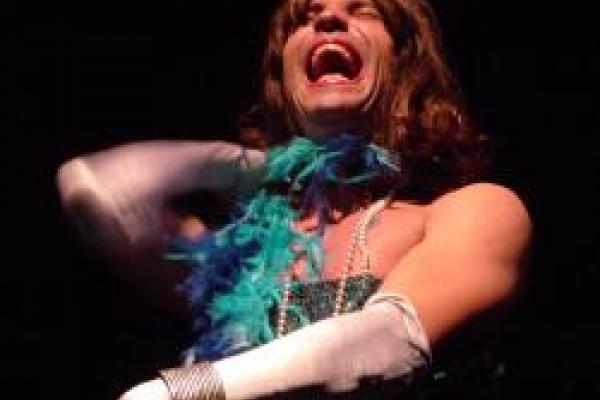 September 3 - September 5, 2014
12:00AM - 12:00AM
Location
Thurber Theatre (Drake Performance and Event Center)
Date Range
Add to Calendar
2014-09-03 00:00:00
2014-09-05 00:00:00
Operetta Burlesque
Written and directed by Emma DantePerformed by Compagnia Sud Costa OccidentaleSeptember 3 at 7:30 pmSeptember 4 at 7:30 pmSeptember 5 at 7:30 pm"A striptease of the soul," Operetta Burlesque is the newest work by Compagnia Sud Costa Occidentale, an award-winning Italian troupe led by Emma Dante. Marking the company's debut in an English-speaking country, this physical theatre production tells the story of Pietro, a young man from a village near Naples who identifies as a woman. His passionate soul is trapped in his ill-fitting body and in a provincial town that is not big enough for him. Pietro unhappily falls in love numerous times until, at age 40, he meets the love of his life. The play is a tale of gender identity and family relationships, depicting the struggles of the many Pietros of southern Italy and beyond. Operetta Burlesque, will be a highlight of the symposium "Blurring Boundaries without Burning Bridges:" Italian Contemporary Performance, the Theatre of Emma Dante, and Beyond.NOTE: Nudity and adult themes. For mature audiences only.Symposium: September 4 - 5, 2014This performance is made possible by a generous donation through The Columbus Foundation. The symposium is made possible by a grant from Ohio Humanities, a state affiliate of the National Endowment for the Humanities.Box Office Information | Ticket Pricing | Directions and Parking
Thurber Theatre (Drake Performance and Event Center)
OSU ASC Drupal 8
ascwebservices@osu.edu
America/New_York
public
Date Range
Add to Calendar
2014-09-03 00:00:00
2014-09-05 00:00:00
Operetta Burlesque
Written and directed by Emma DantePerformed by Compagnia Sud Costa OccidentaleSeptember 3 at 7:30 pmSeptember 4 at 7:30 pmSeptember 5 at 7:30 pm"A striptease of the soul," Operetta Burlesque is the newest work by Compagnia Sud Costa Occidentale, an award-winning Italian troupe led by Emma Dante. Marking the company's debut in an English-speaking country, this physical theatre production tells the story of Pietro, a young man from a village near Naples who identifies as a woman. His passionate soul is trapped in his ill-fitting body and in a provincial town that is not big enough for him. Pietro unhappily falls in love numerous times until, at age 40, he meets the love of his life. The play is a tale of gender identity and family relationships, depicting the struggles of the many Pietros of southern Italy and beyond. Operetta Burlesque, will be a highlight of the symposium "Blurring Boundaries without Burning Bridges:" Italian Contemporary Performance, the Theatre of Emma Dante, and Beyond.NOTE: Nudity and adult themes. For mature audiences only.Symposium: September 4 - 5, 2014This performance is made possible by a generous donation through The Columbus Foundation. The symposium is made possible by a grant from Ohio Humanities, a state affiliate of the National Endowment for the Humanities.Box Office Information | Ticket Pricing | Directions and Parking
Thurber Theatre (Drake Performance and Event Center)
Department of Theatre, Film, and Media Arts
theatreandfilm@osu.edu
America/New_York
public
Description
Written and directed by Emma Dante
Performed by Compagnia Sud Costa Occidentale
September 3 at 7:30 pm
September 4 at 7:30 pm
September 5 at 7:30 pm
"A striptease of the soul," Operetta Burlesque is the newest work by Compagnia Sud Costa Occidentale, an award-winning Italian troupe led by Emma Dante. Marking the company's debut in an English-speaking country, this physical theatre production tells the story of Pietro, a young man from a village near Naples who identifies as a woman. His passionate soul is trapped in his ill-fitting body and in a provincial town that is not big enough for him. Pietro unhappily falls in love numerous times until, at age 40, he meets the love of his life. The play is a tale of gender identity and family relationships, depicting the struggles of the many Pietros of southern Italy and beyond. Operetta Burlesque, will be a highlight of the symposium "Blurring Boundaries without Burning Bridges:" Italian Contemporary Performance, the Theatre of Emma Dante, and Beyond.
NOTE: Nudity and adult themes. For mature audiences only.
Symposium: September 4 - 5, 2014

This performance is made possible by a generous donation through The Columbus Foundation. The symposium is made possible by a grant from Ohio Humanities, a state affiliate of the National Endowment for the Humanities.
Box Office Information | Ticket Pricing | Directions and Parking
---