Image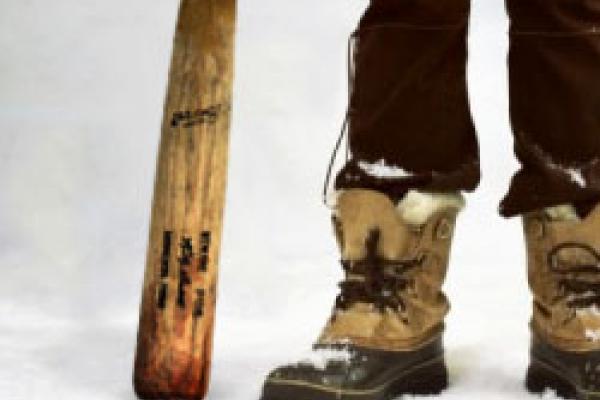 October 1 - October 5, 2014
12:00AM - 12:00AM
Location
Mount Hall Studio Theatre
Date Range
Add to Calendar
2014-10-01 00:00:00
2014-10-05 00:00:00
The Norwegians
By C. Denby SwansonDirected by Jennifer SchlueterOctober 1 at 7:30 pmOctober 2 at 7:30 pmOctober 3 at 7:30 pmOctober 4 at 3:00 pm and 7:30 pmOctober 5 at 3:00 pmThis production is 75 minutes.It is performed without an intermission.The Norwegians contains adult themes and language.  It is suggested for mature audiences only.A strong, bitter comedy about women scorned in Minnesota and the really, really nice gangsters—Norwegian hit men—they hire to whack their ex-boyfriends. Olive is a transplant from Texas and Betty is a transplant from Kentucky, but neither of them was prepared for the Norwegian men they would fall in love with there: the practical, warm, thoughtful, destructive, evil, jilting kind. If you're a hit man in Minnesota, 83% of your clients want to take out their ex (oofda!). Betty has referred Olive to Gus and Tor, a partnership in the whacking business. What Tor doesn't know is that Gus has been sleeping with the clients. What Olive doesn't know is that Gus is Betty's own ex, and she has already put out a hit on him with a Swiss firm. Can Betty call off the job in time to let Gus do his? Should she?OSU Raw Theatre The Norwegians by C. Denby Swanson - BlogBox Office Information | Ticket Pricing | Directions and Parking
Mount Hall Studio Theatre
OSU ASC Drupal 8
ascwebservices@osu.edu
America/New_York
public
Date Range
Add to Calendar
2014-10-01 00:00:00
2014-10-05 00:00:00
The Norwegians
By C. Denby SwansonDirected by Jennifer SchlueterOctober 1 at 7:30 pmOctober 2 at 7:30 pmOctober 3 at 7:30 pmOctober 4 at 3:00 pm and 7:30 pmOctober 5 at 3:00 pmThis production is 75 minutes.It is performed without an intermission.The Norwegians contains adult themes and language.  It is suggested for mature audiences only.A strong, bitter comedy about women scorned in Minnesota and the really, really nice gangsters—Norwegian hit men—they hire to whack their ex-boyfriends. Olive is a transplant from Texas and Betty is a transplant from Kentucky, but neither of them was prepared for the Norwegian men they would fall in love with there: the practical, warm, thoughtful, destructive, evil, jilting kind. If you're a hit man in Minnesota, 83% of your clients want to take out their ex (oofda!). Betty has referred Olive to Gus and Tor, a partnership in the whacking business. What Tor doesn't know is that Gus has been sleeping with the clients. What Olive doesn't know is that Gus is Betty's own ex, and she has already put out a hit on him with a Swiss firm. Can Betty call off the job in time to let Gus do his? Should she?OSU Raw Theatre The Norwegians by C. Denby Swanson - BlogBox Office Information | Ticket Pricing | Directions and Parking
Mount Hall Studio Theatre
Department of Theatre, Film, and Media Arts
theatreandfilm@osu.edu
America/New_York
public
Description
By C. Denby Swanson
Directed by Jennifer Schlueter
October 1 at 7:30 pm
October 2 at 7:30 pm
October 3 at 7:30 pm
October 4 at 3:00 pm and 7:30 pm
October 5 at 3:00 pm
This production is 75 minutes.
It is performed without an intermission.
The Norwegians contains adult themes and language.  It is suggested for mature audiences only.


A strong, bitter comedy about women scorned in Minnesota and the really, really nice gangsters—Norwegian hit men—they hire to whack their ex-boyfriends. Olive is a transplant from Texas and Betty is a transplant from Kentucky, but neither of them was prepared for the Norwegian men they would fall in love with there: the practical, warm, thoughtful, destructive, evil, jilting kind. If you're a hit man in Minnesota, 83% of your clients want to take out their ex (oofda!). Betty has referred Olive to Gus and Tor, a partnership in the whacking business. What Tor doesn't know is that Gus has been sleeping with the clients. What Olive doesn't know is that Gus is Betty's own ex, and she has already put out a hit on him with a Swiss firm. Can Betty call off the job in time to let Gus do his? Should she?
OSU Raw Theatre The Norwegians by C. Denby Swanson - Blog
Box Office Information | Ticket Pricing | Directions and Parking
---