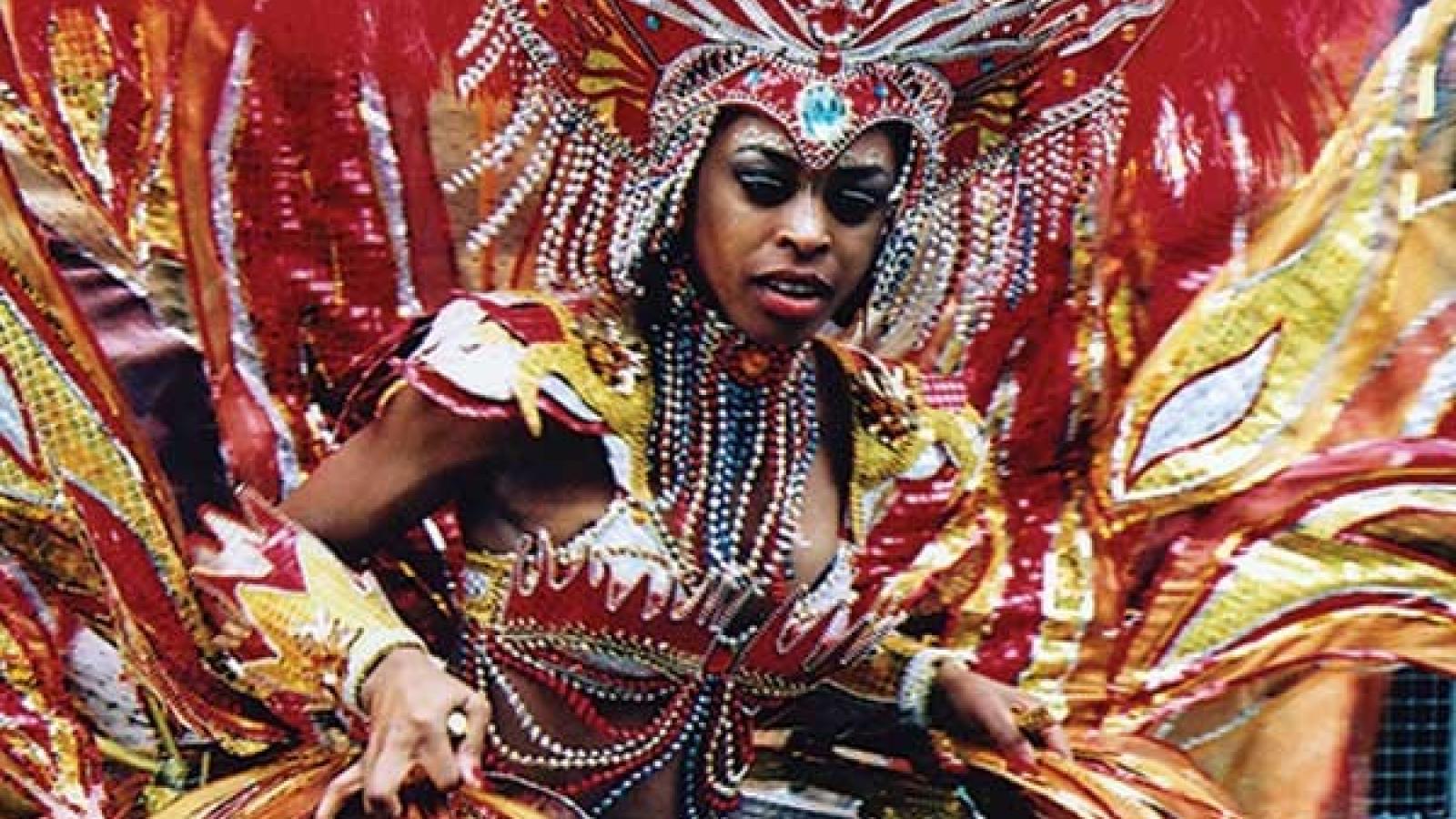 Body
Exhibit
January 13 - April 24, 2016
Thompson Library Gallery
The Dancing in the Streets: Carnival from Britain, Brazil, and Beyond exhibit was curated by Nena Couch, Lesley Ferris, and Adela Ruth Tompsett with items from the collection of the Jerome Lawrence and Robert E. Lee Theatre Research Institute at the Ohio State University Libraries.
Dancing in the Streets: Carnival from Britain, Brazil, and Beyond was an exhibition about the cultural expression of Carnival as developed by enslaved people who were transported from Africa. Carnival combines the Roman Catholic festival celebrated across Europe, then introduced by the colonizing Portuguese or French, with contemporary cultural mixing. In each case, this mixing significantly defines and tells the history of the country or specific city. This exhibit explored Carnival's roots in slavery and emancipation, traditional characters that transmit the history of each festival, and the engagement of Carnival in socio-political issues. Visitors saw original Carnival costumes, photographs, artwork and videos of the dances as well as listened to samples of Carnival music.
Public Programming
Objects of Research: Intro to Library Special Collections for Undergraduates
Tuesday, January 26
Thompson Library Gallery and Special Collections Reading Room
This opening event was a collaboration between the Office of Undergraduate Research and Thompson Library Special Collections.  Students learned about the curatorial research of Nena Couch and Lesley Ferris and then learned how they could conduct their own objects-based research in special collections. 
Body Percussion 
Tuesday, February 9
Thompson Library East Atrium
Dancers from the Department of Dance, under the direction of Department chair Susan Hadley, performed a 5-minute work entitled Body Percussion choreographed by Janet Schroeder.  The dancers made the music with their bodies. This piece was one section of a larger work that the dancers took to Brazil to perform in March 2016.
 New Orleans and Newark: The Story of Mardi Gras Indians
Tuesday, February 9
Thompson 165
This panel discussion by Ohio State Newark students Angela Whipple, Torah Silvera, and Steven Foley, and faculty adviser Dr. Tiyi Morris shared their work with Mardi Gras Indians that culminated in two documentary films, The Big Chiefs of Carnival: Spirit Leads My Needle and The Big Queens of Carnival: It's Your Glory, which premiered on public television in New Orleans at the end of January. 
 Mardi Gras Indian Queen Rukiya Brown
Wednesday, March 30
Thompson 165
In a public presentation, Mardi Gras Indian Queen Rukiya Brown, who was featured in The Big Queens of Carnival, one of the documentaries developed by Ohio State Newark students, shared the Mardi Gras Indians tradition and its importance to the community, her practice as a Queen, and her doll-making. 
 A Wellness Event with the University Libraries: Celebrating Carnival
Monday, April 11
This collaboration with Wellness was the closing public event. Vice Provost and Director of University Libraries Damon Jaggars and Chief Wellness Officer Bernadette Melnyk introduced a dance celebration for audiences to learn the dances of Carnival followed by a tour of the exhibit.