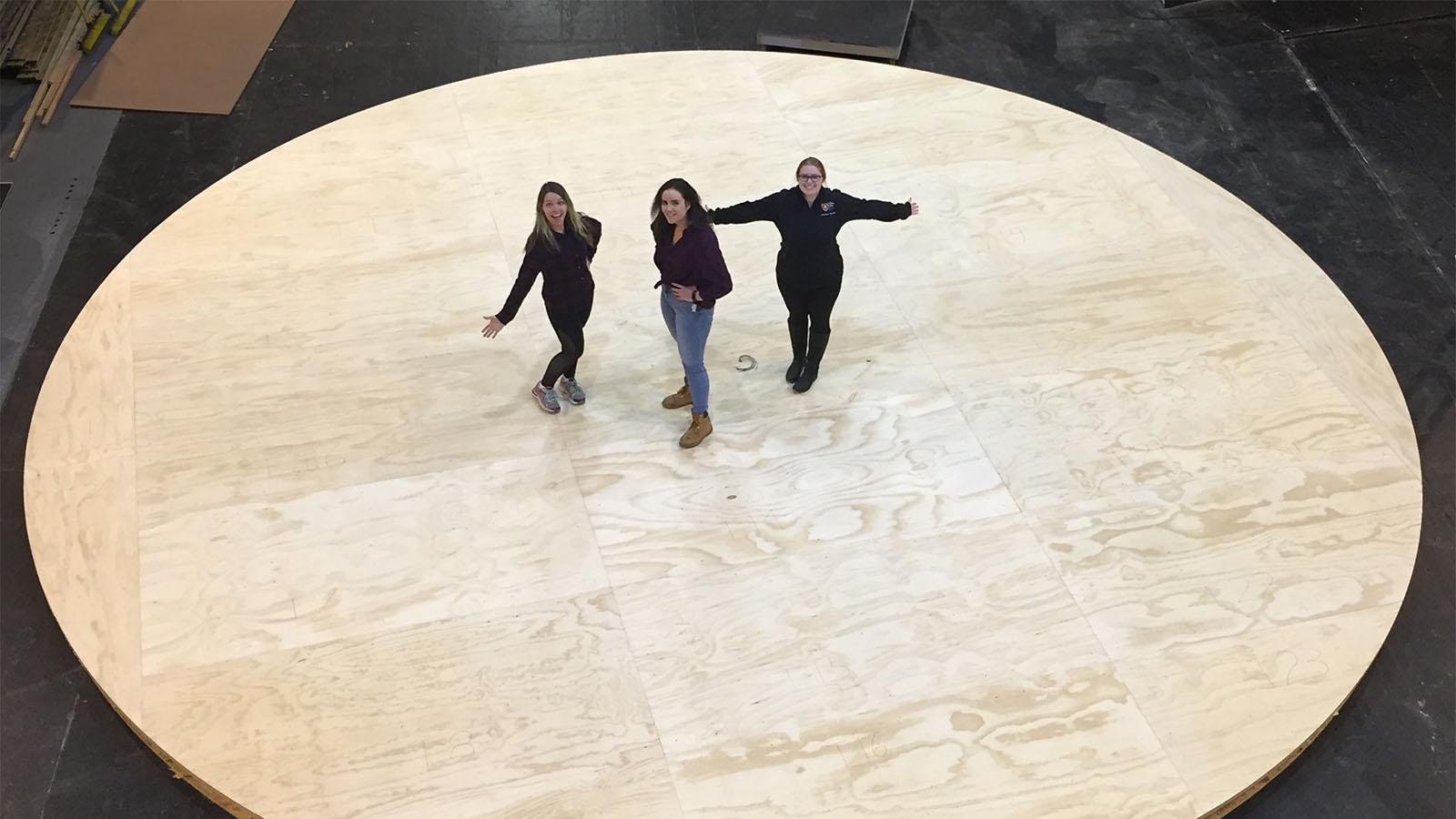 Body
The Entertainment Design and Technology Minor is open to Ohio State students who want to apply the skills of their discipline to careers in live events and theatre and themed entertainment. The Entertainment Design and Technology Minor consists of 12 credit hours tailored to meet the needs and interests of each individual student.
Coursework for the Entertainment Design and Technology Minor
To complete the minor, students select 9 credit hours of disciplinary electives and 3 credit hours of practicum electives. All courses are open to students from any department or major program. Some courses ask for prerequisites or permission.
Disciplinary Electives
Theatre 2211 – Intro to Production Design
Theatre 3241 – Theatre Sound Techniques
Theatre 3411 – Intro to Scene Design
Theatre 3511 – Intro to Costume Design
Theatre 3551 – Stage Make-Up
Theatre 3611 – Intro to Lighting Design
Theatre 5210 – Drafting & Modeling
Theatre 5225 – Period Styles for Production
Theatre 5241 – Topics in Sound Technology
ACCAD 5301 – Devising Experiential Media Systems
Theatre 5305 – Painting and Drawing
Theatre 5310 – Fundamentals of Media Design
Theatre 5321 – Video Production 1
Theatre 5401 – Engineering for Entertainment
Theatre 5403 – Scenic Painting
Theatre 5501 – Costume Technology
Theatre 5603 – Lighting Technology
Practicum Electives
Practicum Electives involve participation in live productions. Students in THEATRE 2000 courses help put our productions together during a weekly class session by constructing scenery, building costumes, preparing lighting, sound, media, paint, etc. There are a variety of sections, each with its own decimal suffix. (For instance: 2000.05 is costuming.) Anyone can register for these courses as there are no prerequisites and every student learns how to work safely in each discipline.
Students in the THEATRE 3000 course participate in the productions as they are happening by serving as crew members, board operators, and technicians. The course only meets for the run of a single production plus 1-2 weeks of technical rehearsals and a variety of positions are available. Again, there are no prereqs so anyone can register and receive training for their position.
THEATRE 4000 courses allow more experienced students an opportunity to serve a larger role on a production team. Students can serve as our Stage Managers, Engineers, Designers or Assistants for any discipline. If you're interested in these courses, you can reach out to a design faculty or a production staff member.
You can also arrange an internship with a company in the live events, theatre or themed entertainment industries and earn Theatre 4191 internship credit. Internships must take place during the semester the student earns credit. Interested students can contact Brad Steinmetz with questions.
The Practicum Electives are:
Theatre 2000.xx – Production Practicum
Theatre 3000 – Production Run Crew Practicum
Theatre 4000.xx – Advanced Production Practicum
Theatre 4191 – Internship
How to Declare a Entertainment Design and Technology Minor
To get started on the Entertainment Design and Technology minor, students should consult with the Academic Program Coordinator in the Department of Theatre, Film, and Media Arts to find out about predicted course offerings and to fill out a Minor Program Form. After the department has approved a student's Minor Program Form, the student must file the form with their college or school advisor. The Minor Program Form must be filed at least by the time the graduation application is submitted to a college/school counselor.
General Information on Minor Programs
Credit hours
A minimum of 15 credit hours required (one introductory course and 12 additional credit hours). 1000 level courses shall not be counted in the minor.
Transfer and EM credit hours allowed: a student is permitted to count up to 6 total hours of transfer credit and/or credit by examination.
Overlap with the GE: A student is permitted to overlap up to 6 credit hours between the GE and the minor.
Overlap with the major and additional minor(s): the minor must be in a different subject than the major; the minor must contain a minimum of 12 hours distinct from the major and/or additional minor(s).
Grades required
Minimum C- for a course to be listed on the minor.
Minimum 2.00 cumulative point-hour ratio required for the minor.
Course work graded Pass/Non-Pass cannot count on the minor.
No more than 3 credit hours of coursework graded Satisfactory/Unsatisfactory may count toward the minor.
X193 credits No more than 3 credit hours.
Minor program form must be filed at least by the time the graduation application is submitted. Once the minor program is filed in the college office, any changes must be approved by Academic Advisor.
Contact
If you have any questions about the minor, you can contact Brad Steinmetz, Program Advisor and Associate Professor of Design and Technology. You can also find out more information and see sample curricula at: https://u.osu.edu/edat/
---
[pdf] - Some links on this page are to Adobe .pdf files requiring the use of Adobe Reader. If you need these files in a more accessible format, please contact theatre@osu.edu.